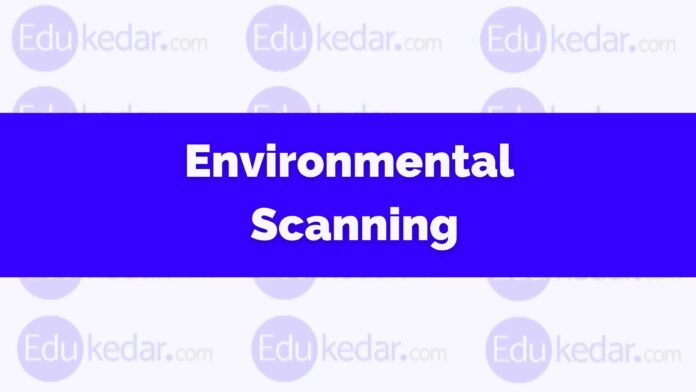 The business environment is full of opportunities and threats that make decision-making very difficult for managers. The business environment's uncertain and unpredicted nature creates a huge challenge for managers to develop such inclusive and futuristic strategies that ensure high growth and survival here business environmental scanning is very crucial for an organization. It helps the business to identify or measure is their strengths, weaknesses, threats, and opportunities.
In this article, we will discuss what is environmental scanning, its process, and different technics of environmental scanning.
► What is Environmental Scanning?
Environment scanning is a process of analyzing the environment for the identification of the factors which impact the business.
In simple words, environment scanning refers to a continuous process of monitoring and examing all the forces that collectively and individually affect the business these forces mainly are political, social, cultural, technological, and economical in nature.
◉ Environmental Scanning Meaning
An organization operates in a dynamic environment where changes are continuous. So, organizations keep monitoring the changes in the environment, and this monitoring is aimed at the identification of risks and opportunities that affect the organization's course of action.
◉ Definition of Environmental Scanning
Environmental scanning is a continuous process of monitoring, and evaluating all the internal and external factors and gathering information related to all factors that help the management to determine the future direction of the organization.
► Process of Environmental Scanning
Examining (Scanning Environment)
Observing (Strategic Thinking)
Predicting (Strategic Decision Making)
Evaluation (Strategic Planning)
Also Read : Importance of Business Environment
► Types of Environmental Scanning
Internal Analysis
External Analysis

Macro Environment (PEST)
Micro Environment (Five Forces Analysis)
► Techniques of Environmental Scanning
SWOT Analysis
PESTEL Analysis
ETOP Analysis
SAP
Issue Priority Matrix
Functional Area Profile
Opportunity and Threat Matrix
The Impact Matrix
✔ SWOT Analysis
SWOT stands for Strengths Weaknesses Opportunities and Threats. SWOT analysis framework helps the company in the identification of the core competency, weakness, threat, and opportunities, and this analysis help the organization determine the course of action to ensure the survival and growth of the organization.
A SWOT analysis is facilitated an organization's decision-making capabilities by providing realistic, fact-based evaluation which helps in the formulation of business policies and strategies.
✔ PESTEL Analysis
It is a framework to analyze the political, economic, technological, environmental, and legal factors in which a firm operates.
This framework helps the organization to keep track of all the macro environment factors that affect the performance of the organization.
factors to PESTEL analysis are.
◉ 1. Political
Government Policy
Political Stability
Corruption
Government political Ideology
Regulatory and governing bodies
Foreign Trade Policy
Labor laws
Taxation Policy
Income equality
◉ 2. Economical
Inflation rate
GDP growth rate
Exchange rate
Interest rate
Per capita income
Unemployment rate
◉ 3. Social
Life style
Religious and cultural factors
Language
Population growth rate
Education level
Concern about health and safety
◉ 4. Technological
Level of innovation
Technology incentive
Automation
Promotion of research and development
◉ 5. Environmental
Weather and climate
Environmental protection policies
Pressures from NGOs
◉ 6. Legal
Consumer protection law
Environmental law
Business law
Employment law
Copyright and patent law
Health and safety law
Labour welfare law
Bankruptcy law
✔ ETOP analysis
ETOP analysis (environment threat opportunity profile) is the process by which a firm monitor all the factors that affect the firm. It not only helps the firm to identify opportunities and threats but also helps in strategic planning.
In ETOP analysis divide environment into various factors are divided these factors into subsectors and evaluated on the basis of opportunities and threats it poses to business.
✔ SAP (Strategic Advantage Profile)
A strategic Advantage profile is a summary statement that provides an overview of the advantages and disadvantages in key areas likely to affect the future operations of a firm.
It is a total for making a systematic evaluation of strategic advantage factors which are significant for the company in its environment.
It involves functional areas like marketing, production, finance, accounting, personnel, human resource, and R&D. SAP is a summary statement.