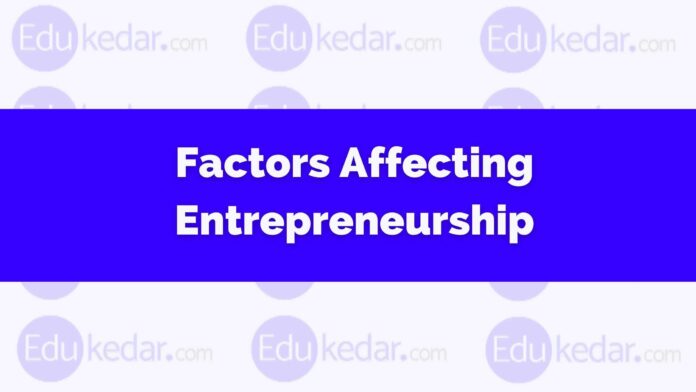 Entrepreneurship is the process of starting, managing, and growing a business venture. Here we have discussed the factors affecting entrepreneurship.
Entrepreneurship involves taking on financial and personal risk in the hope of generating a profit or creating value for society.
Factors Affecting Entrepreneurship
There are several factors that affect entrepreneurship, some of which are:
Economic Conditions
Regulatory Environment
Access to Capital
Education and Training
Social and Cultural Factors
Technological Advances
Political Stability
Technical Skilled Labour Force
Accessibility of Suppliers
Favorable Government Policies
Aspiration and Attitude
Business Competition
Role of Bank and Financial Institutions
1. Economic Conditions
Economic conditions play a significant role in entrepreneurship. A strong economy with low unemployment and high consumer spending can create an environment where entrepreneurship is encouraged. In contrast, a weak economy with high unemployment and low consumer spending can make it difficult for entrepreneurs to succeed.
2. Regulatory Environment
The regulatory environment can also affect entrepreneurship. Regulations that are too restrictive can make it difficult for entrepreneurs to start and grow their businesses. On the other hand, a regulatory environment that is too lax can lead to fraud and other illegal activities.
3. Access to Capital (Factors Affecting Entrepreneurship)
Access to capital is crucial for entrepreneurship. Without sufficient funding, entrepreneurs may struggle to start or grow their businesses.
This includes not only traditional funding sources such as loans and investments but also crowdfunding and other alternative financing methods.
4. Education and Training (Factors Affecting Entrepreneurship)
Education and training can also impact entrepreneurship. Formal education can provide entrepreneurs with the knowledge and skills they need to start and grow their businesses.
In addition, entrepreneurship training programs can help entrepreneurs learn about business planning, marketing, and other critical areas.
5. Social and Cultural Factors
Social and cultural factors can also influence entrepreneurship. In some cultures, entrepreneurship may be more valued and encouraged than in others.
Social networks can play a significant role in entrepreneurship, as entrepreneurs may rely on their networks for advice, funding, and other resources.
6. Technological Advances
Technological advances can create new opportunities for entrepreneurship. For example, the rise of the internet has created a host of new business models, such as e-commerce and online marketplaces.
7. Political Stability (Factors Affecting Entrepreneurship)
Political stability is also important for entrepreneurship. In countries with unstable political environments, entrepreneurs may face increased risks and uncertainty, which can make it difficult to start and grow a business.
8. Technical Skilled Labour Force
Entrepreneurs require skilled labor to operate their businesses. If a region has a skilled labor force, it can attract entrepreneurs looking for a suitable workforce. Access to technical training and education also plays a crucial role in developing the skill sets of the workforce.
9. Accessibility of Suppliers (Factors Affecting Entrepreneurship)
Businesses depend on suppliers for raw materials, equipment, and other necessary inputs. The accessibility of suppliers and their quality can affect the success of the business. Regions with good supplier networks can attract more entrepreneurs.
10. Favorable Government Policies
The government can encourage entrepreneurship by creating policies that support small businesses. This can include tax incentives, streamlined bureaucracy, funding support, and favorable regulations.
11. Aspiration and Attitude
An entrepreneurial mindset is essential for starting and growing a business. The community's attitude towards entrepreneurship can influence the number of entrepreneurs in the region. If the region values entrepreneurship and supports it, it can foster a culture of innovation and risk-taking.
12. Business Competition
Competition can motivate entrepreneurs to innovate and improve their products or services. It can also help entrepreneurs to identify gaps in the market and create unique value propositions. However, excessive competition can also make it difficult for entrepreneurs to enter the market or gain market share.
13. Role of Banks and Financial Institutions
Access to capital is critical for entrepreneurs to start and grow their businesses. Banks and financial institutions play a crucial role in providing entrepreneurs with access to funding, credit, and other financial services.
The availability and cost of credit can affect the success of the business and the region's overall entrepreneurial activity. Additionally, the support provided by financial institutions, such as business training and advisory services, can help entrepreneurs build their skills and knowledge.
Entrepreneurship is affected by a range of factors, including economic conditions, regulatory environment, access to capital, education and training, social and cultural factors, technological advances, and political stability. Entrepreneurs who can navigate these factors successfully are more likely to succeed in their ventures.