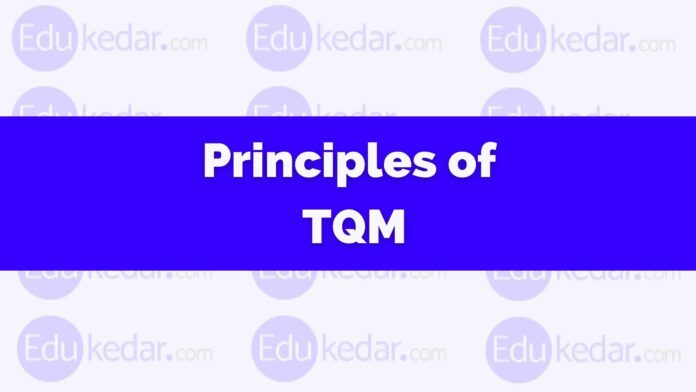 There are various principles of TQM. Implementation and success will differ from one firm to the next, as with most management strategies and practices.
While no single strategy is universally accepted, the most popular Principles of TQM incorporate the eight concepts. Here are the principles of TQM (Total Quality Management);
► Principles of TQM
Customer focus.
Employee involvement.
Process approach.
Integrated system.
A strategic and systematic approach
Continuous improvement
Facts-based decision-making.
Communication.
Now let's discuss all the above principles of TQM in detail.
✔ 1. Customer Focus
Principles of TQM
The first of the TQM principles refocuses attention on the customers who are purchasing your product or service. The quality of your goods is determined by your customers.
Customers will recognize they have spent their money on quality goods if your product meets demand and lasts as long as or longer than planned.
You have a better chance of figuring out how to have the necessary materials, people, and processes in place to meet and surpass your customer's expectations if you understand what they want or need.
◉ How to Implement Customer-Centric in TQM?
Investigate and comprehend your consumers' requirements and expectations.
Align your company's goals with those of your customers.
Communicate with customers, track satisfaction, and use the data to make improvements.
◉ Advantages of Customer Focus
Customer focus leads to an increase in sales of the company.
The market share of the firm also gets increased.
Strong bonding with customers leads to repeat in business.
More possibilities that customers will tell others about your services.
✔ 2. Employee Involvement
Principles of TQM
Without the full dedication of all personnel, it is impossible to grow production, processes, or sales. They must be aware of the vision and objectives that have been stated.
They must be adequately trained and provided with the necessary resources to execute assignments in order to be dedicated to meeting deadlines.
◉
Process

of Employee Involvement in TQM

To increase employee involvement in TQM, steps are as follows;
Clearly communicate and recognize the value of each individual's contribution to the final result.
Make it clear that each team or individual accepts responsibility for their actions, and give them the authority and chance to handle problems as they emerge.
Encourage employees to review their own performance in light of their personal goals and objectives, and make changes as needed to optimize workflow.
Recognize accomplishments and improved performance to instill trust in your employees and stakeholders.
Make sure that everyone knows what their obligations are, and that you have everything you need.
◉
Advantages

of Employee Involvement

The following are some of the primary advantages of Employee engagement;
Employee retention is higher because staff are more motivated, committed, and engaged in achieving customer satisfaction.
Individual and group problem-solving and process improvement creativity and innovation
Employees that are proud of and responsible for their own work.
Enthusiasm for active engagement and a willingness to contribute to continuous improvement.
✔ 3. Process-Oriented Approach
In quality management, the below-mentioned processes are crucial. Processes guarantee that the appropriate procedures are completed at the appropriate times in order to maintain consistency and speed up output.
◉
Process

Approach in TQM

To implement process approach in TQM, steps are as given below:
Use Total Quality Management tools like process flowcharts to create and demarcate clear roles and responsibilities so that everyone understands who is responsible for what and at what times.
Create a visual action plan so that everyone can see the particular tasks that must be accomplished in order to attain the intended outcome.
Analyze and quantify present actions to see where improvements might be made or where bottlenecks in the process exist.
Examine the potential influence of your processes and activities on your customers, suppliers, and other stakeholders.
◉
Advantages

of Process Focused Approach

The following are some of the advantages of using a process approach:
Increased revenue, shorter development and manufacturing cycles, and cheaper costs.
More predictability and consistency.
Maintain a focus on progress and accomplishment.
Also Read :14 Principles of Management
✔ 4. Integrated System
A typical firm contains a number of separate departments, each with its own set of functions and goals. The horizontal processes that should be the emphasis of Total Quality Management are associated with these departments and functions. However, these departments and services might occasionally operate in silos.
Everyone in every department should have a complete awareness of policies, standards, objectives, and processes in an integrated system. Integrated systems aid the company in its pursuit of continuous improvement in order to gain a competitive advantage.
◉
Process

of Integrated System in TQM

To apply an integrated system in Total Quality Management, the procedure is as given below;
Encourage a quality-oriented work environment.
Use flowcharts and other visual aids to assist employees to understand how their roles fit into the overall organization.
Analyze the current process to discover where improvements might be made.
◉
Advantages

of Integrated System

The advantage of the integrated system approach is as follows:
Concentrate on quality to help your company succeed and meet or surpass client expectations.
✔ 5. Strategic Systematic Approach
This principle is defined by the International Organization for Standardization (ISO) as follows:
"Identifying, analyzing, and managing interrelated processes as a system helps the organization achieve its goals more effectively and efficiently."
In order to maximize efficiency, many processes within a development or manufacturing cycle are controlled as a system of processes.
◉
Process

of Systematic Approach in TQM

To put this principle in Total Quality Management into practice, do the following:
Provide your employees with the necessary training and resources to assist them in completing their specific steps in the process.
Improve processes and products as needed, and upgrade equipment as needed to meet objectives.
Make continuous development a measurable goal for everyone.
Recognize, recognize, and reward process improvements and innovations.
◉
Advantages

of Systematic Approach

The advantage of this approach is:
The ability to detect, react to, and resolve process bottlenecks or failures promptly.
Overall, the organization's capabilities and performance have increased.
✔ 6. Continuous Improvement
Optimal efficiency and perfect client happiness don't happen overnight, therefore your company should be constantly looking for methods to enhance operations and adapt your products and services to changing customer needs.
The other Total Quality Management principles, as previously indicated, should assist your company in striving for continuous development.
◉
Process

of Continuous Improvement in TQM

To make continuous improvement in TQM, follow the steps as follows;
Implement policies that provide measurable targets for individuals, teams, and departments in terms of product, process, and system improvements.
To improve procedures and development, recognize, acknowledge, and encourage innovation.
Encourage employees to attend available training programs in order to learn new skills and take on new responsibilities.
◉
Advantages

of Continuous Improvement in TQM

The following are some of the advantages:
Increased performance through improved knowledge and capabilities.
Improvement objectives that are strategically aligned with the competencies and objectives of the company.
Rapid response times to identify and repair bottlenecks and broken processes.
✔ 7. Facts Based Decisions
Analysis and data collection lead to improved decisions depending on the facts provided. Making well-informed selections allows you to gain a deeper understanding of your clients and market.
◉
Process

of Facts based Decisions in TQM

To make factual decisions in Total quality management, follow the steps listed below;
Analyze and verify data to ensure it is accurate and reliable.
Stakeholders should have access to important data.
To collect and analyze data, use reliable procedures.
Make decisions based on data-driven facts, as well as your own experience and instincts.
◉
Advantages

of Facts based Decisions in TQM

The following are some of the advantages:
Making well-informed decisions.
Ability to evaluate and justify past actions based on facts.
Ability to revise earlier decisions based on new information.
✔ 8. Communication
Principles of TQM
From the top to bottom level of management, all members of your company should be aware of the plans, strategies, and procedures that will be employed to meet objectives.
If you don't have an effective communication plan, you're more likely to fail.
◉
Process

of Communication in TQM

To implement communication in TQM into practice, do the following;
Establish a formal communication channel so that all employees are aware of updates, policy changes, and new processes.
Employees should be involved in decision-making whenever possible.
Ascertain that everyone in each department is aware of their responsibilities and how they relate to the rest of the organization.
◉
Advantages

of Communication in TQM:
Employees' morale and motivation are boosted when they realize how their contributions contribute to the company's success.
Coordination and collaboration between departments
Silos are linked together.
Ability to more precisely assess the efficacy of existing rules and processes
Employees are more motivated to attain goals because they are involved in the decision-making process.