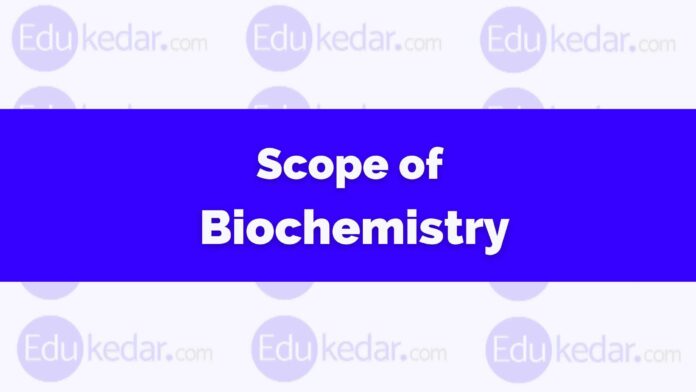 Biochemistry is a branch of science that deals with the study of chemical processes and substances present in living organisms. Here we have shared the scope of Biochemistry in detail.
It is an interdisciplinary subject that draws knowledge from various fields of science, including chemistry, biology, physics, and mathematics.
Scope of Biochemistry
The scope of biochemistry is vast and ranges from understanding the fundamental processes that sustain life to the development of innovative technologies that enhance human health.
Here are some of the key areas of biochemistry and their applications:
Biomolecules
Enzymology
Metabolism
Genetics
Biotechnology
Structural Biology
Pathology
Pharmaceutical Industry
Physiology
1. Biomolecules
Biomolecules are the building blocks of life and biochemistry deals with the study of these molecules. These include carbohydrates, lipids, proteins, and nucleic acids.
Biochemistry explains how these molecules are synthesized, broken down, and used by the body. This knowledge is crucial for understanding diseases that affect these molecules, such as diabetes and cancer.
2. Enzymology
Enzymology is the study of enzymes, which are proteins that catalyze biochemical reactions in living organisms. Biochemistry studies the structure, function, and regulation of enzymes.
Enzymes are useful in developing drugs that target specific enzymes and in understanding metabolic diseases that result from enzyme deficiencies.
3. Metabolism
Metabolism refers to the chemical processes that occur in living organisms to sustain life. Biochemistry studies the metabolic pathways that produce energy and synthesize essential molecules such as amino acids and nucleotides.
This knowledge is useful in understanding diseases such as diabetes, obesity, and metabolic disorders.
4. Genetics (Scope of Biochemistry)
Biochemistry is closely linked to genetics, as it studies the structure and function of DNA and RNA.
Biochemists investigate how genes are regulated and how mutations in genes can lead to diseases. This knowledge is useful in developing gene therapies and in understanding inherited diseases.
5. Biotechnology (Scope of Biochemistry)
Biotechnology is the application of biological knowledge to develop new products and technologies. Biochemistry is central to biotechnology, as it provides an understanding of the chemical processes involved in living organisms.
Biochemists use this knowledge to develop new drugs, vaccines, and diagnostic tests, as well as to produce genetically modified organisms for agriculture and industrial applications.
6. Structural Biology
Structural biology is the study of the three-dimensional structure of biomolecules. Biochemistry plays a critical role in understanding the structure and function of proteins, which are key players in many biological processes.
This knowledge is useful in developing new drugs that target specific proteins and in understanding diseases caused by protein misfolding.
7. Pathology
Biochemistry plays an important role in understanding the biochemical basis of diseases. It provides insights into the molecular mechanisms underlying various diseases, such as cancer, diabetes, and cardiovascular diseases.
Biochemical assays and techniques are also used to diagnose diseases and monitor their progression. For example, measurement of blood glucose levels using biochemical assays is crucial for the diagnosis and management of diabetes.
8. Pharmaceutical Industry
Biochemistry is an essential tool in drug discovery and development. Biochemists work to identify and validate drug targets, design new drug molecules, and evaluate the safety and efficacy of drugs.
Biochemical assays are also used to screen potential drug candidates and to understand their mechanism of action. Biochemistry is thus critical for the development of new drugs and therapies for various diseases.
9. Physiology
Biochemistry is also important for understanding the physiological processes that occur in living organisms. Biochemists study the biochemical pathways involved in energy metabolism, signal transduction, and cellular communication.
This knowledge is useful in understanding how organisms respond to different environmental conditions and in developing new therapies for diseases.
For example, understanding the biochemical mechanisms underlying obesity can help develop new treatments for this condition.