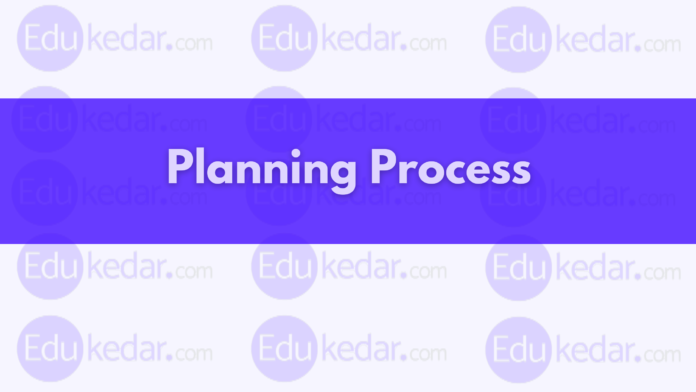 As we have shared in our previous articles, Planning is the primary function of management. Planning refers to that activity when we decide in advance what actions and resources are required to reach a goal. Today we have shared the details on steps in the planning process in management and how to formulate strategic planning for businesses. 
Steps in the planning process may differ from one organization to another because there are many factors that may affect the planning of a big organization but at the same time, that factor may not affect the small organization.
Therefore, the planning process in a small organization may not be taken in the same ways as in a large organization or MNC's (Multi-National Companies).
► Understanding Steps in Planning Process
First of all, we need to understand that Formal planning is a systematic process.
The sequences of various steps in the planning process are in such a way that they lead to the translation of an idea into the course of action.
The planning process helps in decision making and it is applicable for a major program like the opening of a new product line or the acquisition of a major plant. The same process is applicable to all types of plans with minor modifications according to the respective goals.
Planning is required at every level of management, but the process of planning remains the same while formulating plans and determining the best alternatives. 
According to some renowned management books like Principles and Practice of Management, the planning process comprises the following stages; 
Perception of opportunities ➜ Establishing objectives ➜ Planning premises ➜ Identification of alternatives ➜ Evaluation of alternatives ➜ Choice of alternative plans ➜ Formulation of supporting plans ➜ Establishing a sequence of activities
If you read the sequences of stages mentioned above, it might be difficult to understand because it is a bookish language and sequence. So we have written all the steps of the planning process in the easiest way possible.
Our motive is to make it simple to understand for everyone. So let's enjoy reading and understand the process of planning.
► Steps in Planning Process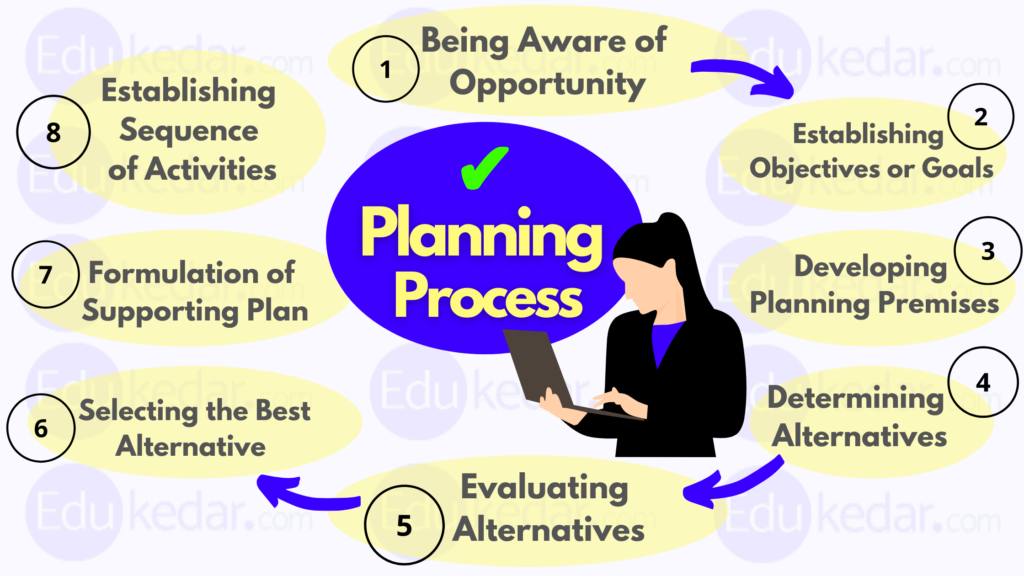 The steps involved in the strategic planning process are;
Step 1 – Being Aware of Opportunity
Step 2 – Establishing Objectives or Goals
Step 3 – Developing Planning Premises
Step 4 – Determining Alternatives
Step 5 – Evaluating Alternatives
Step 6 – Selecting the Best Alternative
Step 7 – Formulation of Supporting Plan
Step 8 – Establishing Sequence of Activities
Each step in the planning process contributes to planning formulation. The planning leads us to the state of establishing sequences of activities.
Must Read ➜ 14 Principles of Management
Let's discuss all the steps of the planning process in detail.
✔ Step 1: Being Aware of Opportunity
Awareness of possible opportunities is very important for the planning process. It leads to the formulation of plans by providing clues whether opportunities exist for taking up a particular plan.
Perception of opportunities includes a preliminary look at possible opportunities and the ability to see them clearly and completely. 
During this stage, managers create a foundation from which they will develop their plans to achieve goals. They examine the current state of where the organization stands in the light of its strength and weaknesses.
This analysis gives them a preliminary look at possible future opportunities. Once the opportunities are identified, the other steps of planning are undertaken.
✔ Step 2: Establishing Objectives
The second step in the planning process is to establish objectives for the entire organization and then for each subordinate work unit.
Organizational goals provide direction to and control the objectives of subordinate departments. 
The organizational goals and objectives should be specified in all key result areas.
Key result areas are those which are important for an organization in achieving its objectives. KRA can be identified on the basis of organizational objectives.
For example, for an organization KRA's (key result areas) may be profitability, sales, research and development, manufacturing, and so on. 
Once organizational objectives are identified, the objectives of front-line units and sub-units can be identified in that context.
Organizational objectives give direction to the nature of all major plans. These plans reflect the organizational objectives and define the objective of major departments.
General interest or organizational interest is superior to individual interest. This is one of the important principles from the 14 principles of Management given by Henry Fayol.
This principle controls the objectives of subordinate departments and so on down the line.
Thus, there will be a hierarchy of objectives in the organization.
✔ Step 3: Developing Premises
After establishing goals and objectives, the next step is to develop planning premises, that is, the conditions under which planning activities will be undertaken.
Planning premises are assumptions about the environment in which the plan is to be carried out. Planners need to do realistic forecasting to develop planning premises.
The forecasting process involves;
(i) calculation of probable future events.
(ii) analyzing changes in consumer attitude, technology, competitive forces, government policies, etc.
(iii) developing the basis for decision making and planning by systematic investigations.
Managers use these premises to evaluate future events and to develop 'action statements' and alternative courses of action.
Because future events are complex, premises must be limited to assumptions that are critical to a plan.
Premises must be monitored and updated throughout the planning process.
✔ Step 4: Determining Alternative Courses
The next step is determining available alternative ways of achieving objectives.
Alternatives can be identified based on the planning premises and objectives of the firm.
It is important to note that the number of alternatives should be reduced to the most promising and fruitful ones by preliminary analysis.
Managers should search for and examine alternative courses of action. Alternatives can be discovered through research, experimentation, and experience.
Must Read ➜ Management by Objectives (MBO)
✔ Step 5: Evaluating Alternative Courses
The planner must evaluate the alternatives in the light of premises and goals. Evaluation can be done by finding out the available alternatives and having made an analysis of their strong and weak points.
Evaluation is not an easy process because alternatives have so many variables and limitations.
Some alternatives can be compared easily, some may appear to be the most profitable and will be too expensive. Some may be less desirable or efficient than others. the best one is which better suits the organization's immediate goals.
Hence, the effective manager should evaluate these alter­natives against the considerations for both feasibility and consequences.
The statistical methods and software have greatly helped the evaluation process.
✔ Step 6: Selecting the Best Alternative
This is the point at which the plan is adopted – the point of decision-making. Selecting the most appropriate alternative involves choosing the plan.
Normally, managers will select the alternative that, in their judgment, will best enable the organization to accomplish its goals.
✔ Step 7: Formulation of Supporting Plan
After formulating the main plan/basic plan, various sub-plans (derivative plans) are derived so as to support the main plan.
Derivative plans are specific plans which are departmental specific.
In an organization, there can be various derivative plans like planning for buying equipment, collecting raw materials, recruiting and training personnel, developing a new project, etc.
These derivative plans are formulated out of the main plan. Therefore, they are meant to support the main plan.
✔ Step 8: Establishing Sequence of Activities 
After formulating basic and derivative plans, the sequence of activities is determined so that plans are put into action efficiently and effectively.
Based on plans at various levels, it can be decided who will do what and at what time so plans can be implemented in the right way.
The finance and account department prepare budgets for the various period so plans get more concrete meaning for implementation.
Must Read ➜ Human Resource Planning
► Other Planning Process Models
There are various models of the Planning process, such as;
4 Steps in Planning Process,
5 Steps in Planning Process,
6 Steps in Planning Process,
7 steps in Planning Process
4 Steps Model in Strategic Planning Process
Step 1:  Determine Position (Prepare SWOT data)
Step 2: Develop Strategy (Mission, Values, Vision, Forecast)
Step 3: Build the Plan (Using SWOT analysis, Department goals)
Step 4: Manage Performance (Rollout)
5 Steps Model in Strategic Planning Process
Step 1: Define the goals.
Step 2: Determine where you are relative to the goals.
Step 3: Determine barriers and aids in the environment.
Step 4: Develop a set of actions to reach the goals.
Step 5: Develop methods to control the operation of the plan.
6 Steps Model in Strategic Planning Process
Step 1 – Identifying problems and opportunities.
Step 2 – Inventorying and forecasting conditions.
Step 3 – Formulating alternative plans.
Step 4 – Evaluating alternative plans.
Step 5 – Comparing alternative plans.
Step 6 – Selecting a plan.
7 Steps Model in Strategic Planning Process
Step 1 – Review or develop Vision, Values & Mission.
Step 2 – Business and operation analysis (SWOT Analysis etc).
Step 3 – Develop and Select Strategic Options.
Step 4 – Establish Strategic Objectives. 
Step 5 – Strategy Execution Plan.
Step 6 – Establish Resource Allocation.
Step 7 – Execution Review.
Must Read ➜ Importance of Planning
► Which model is in Planning Process?
It is not mandatory that a particular planning process is applicable for all organizations and for all types of plans.
We have shared 8 steps of the planning process in detail in this article. This is the ideal and traditional approach for the process of strategic planning.
It is the most appropriate and systematic planning process that is suitable for most organizations. Apart from this many other models are also available according to different types of planning.