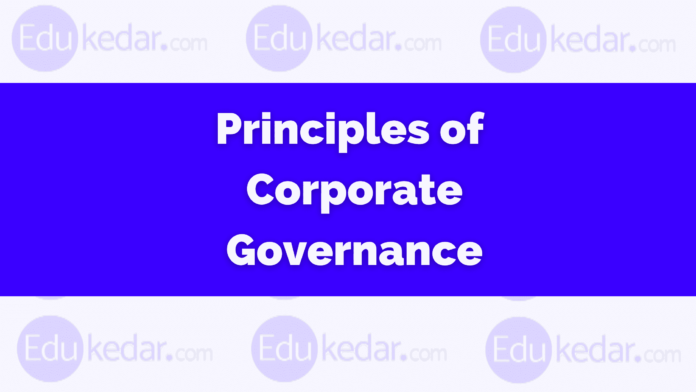 Principles of corporate governance consist of those guidelines which are formulated to make the government more efficient, competitive, and socially acceptable too.
Here we have shared the topic Principles of corporative governance;
► Principles of Corporate Governance
Principles of accountability
Principles of fairness
Principles of equity
Principles of transparency
Principles of discipline
Principles of responsibility
Principles of social responsibility
Principles of honesty
Principles of confidentiality
Principles of integrity
Must Read :What is Corporate Governance?
✔ Principles of Accountability
The principles of accountability are related to enforcing the data protection principles. These will perform duties with honesty and integrity.
This principle provides a code & of conduct for accountability of the board of Directors of the company to all shareholders in accordance with applicable law.
It facilitates the Board of Directors (BOD) in decision making and monitoring of the activities of the executive bodies.
✔ Principles of Fairness
This principle is related to enjoying the benefits without paying any cost. The company undertakes to protect the rights of shareholders and it ensures equal treatment of shareholders.
The BOD shall give the opportunity to all shareholders so they can obtain effective redress for violations of their rights.
✔ Principles of Equity
(Corporate Governance)
It is necessary to have a clear dividend policy. It should be based on some type of market logic and the prevalent competitive condition.
The capital structure should be in such a way that enables certain shareholders to obtain control disproportionate to their equity ownership should be disclosed,
✔ Principles of Transparency
Incorporate governance is that stakeholders should be informed about the company's activities, and what it plans to do in the future.
It means that the company is not hiding relevant information, and disclosures are fair, accurate, and reliable.
Markets for all companies and for corporate control should be allowed to function in a transparent manner.
✔ Principles of Discipline
Discipline means obedience, respect for authority, follow the rules and regulations of the organization.
Good corporate governance must have discipline while implementing policies, resolutions, and strategies.
✔ Principles of Responsibility
This principle is to ensure humans are self-responsible and take responsibility and do their work at a given time.
It is the responsibility of the board to produce an understanding and balanced assessment of the company's prospects and position.
The company recognizes the rights of all interested parties permitted by applicable law and seeks to cooperate with such persons or companies for their own development and financial stability.
✔ Principles of Social Responsibility
Social safety and environmental sustainability or promotion should be ensured by the governance system
To make corporate governance effective, companies must take care of their social responsibility because consumer lives in a society, and society is demanding sustainable development.
For Example, the Corporate sector must take action to reduce pollution and carbon emissions. Provision for recycling the industrial waste.
✔ Principles of Honesty
In corporate governance honesty means you speak the truth and work truthfully without any unfair practice.
Professional communication with both internal and external audiences, including public financial reports, should be accurate, fair, transparent, and trustworthy.
✔ Principles of Confidentiality
The principle of confidentiality is maintaining confidentiality with all personnel, based on loyalty and trust.
✔ Principles of Integrity
(Corporate Governance)
A person of integrity will put the interests of the organization above your own, and even put your own reputation.
To maintain the integrity of the company's accounting and financial reporting systems. Corporations must include the independent audit periodically.
This type of appropriate system helps to ensure controlling and monitoring risk, financial control, and compliance with the law.
► OECD Principles of Corporate Governance
The OECD is an organization that provides specific guidance for policymakers, regulatory bodies, and market participants.
The objective of OECD is to improve the legal, institutional, and regulatory functions that improve the corporate governance framework, with a focus on publicly traded companies.
The OECG stands for Organization for Economic Cooperation and Development.
The OECG principle was codified in 1999 and further revised in 2004.
These principles are accepted by all member countries and also by some non-member countries.
The six fundamental principles were all agreed upon by the member of OECD.
◉
Six fundamental

principles are given by OECD

The OECD principles cover 6 key areas of corporate governance that are as follows;
Discloser and transparency.
There should be a strong basis for effective corporate governance.
 Rights of shareholders and key ownership of functions.
Responsibilities of the board.
Role of the shareholders in corporate governance.
Equal treatment of all shareholders.