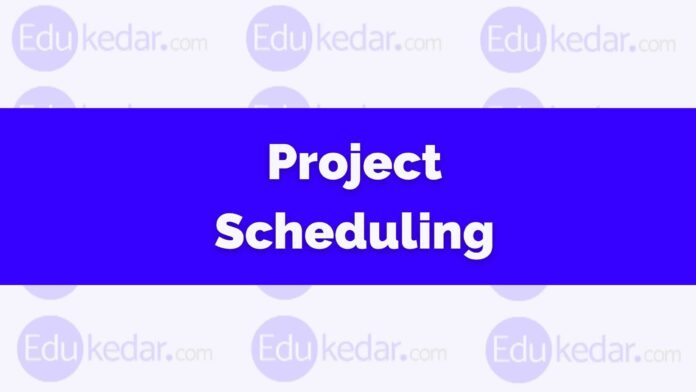 Project Scheduling is a process of defining project activities, determining their sequence, and estimating their duration. Activities in Project Schedule are part of project time management.
Here in this article, we have shared a detailed article on what is project scheduling? its meaning, definition, and types with examples.
► What is Project Scheduling?
Project Scheduling is a very responsible activity for a project manager. And sometimes it is very difficult to schedule long-term projects.
In project scheduling, the Project manager separates the total work involved in a project into separate activities and judges the time required to complete these activities.
◉ Project Scheduling Meaning
Project scheduling simply means a mechanism that is used to communicate and know about the tasks that are needed and has to be done or performed in the project.
What organizational resources will be given or allocated to these tasks and in what time duration or time framework is needed to be performed.
Effective project scheduling helps to get success of the project, reduced cost, and increased customer satisfaction.
Project Scheduling meaning is to list out activities, deliverables, and milestones within a project that are delivered.
The most popular form of the project schedule is the Gantt chart method.
◉ Definition of Project Scheduling
Scheduling has been defined as the systematic process of setting various planned activities in order to fix the starting and finishing date for each activity of the work to execute (implement) the whole work in a systematic and orderly or sequence manner.
The project schedule can be defined as a roadmap to communicate the planned dates and resources for the work or tasks that need to be performed in graphical form (usually Gantt Chart).
The project schedule should contain 100% work associated with delivering the project work and scope.
Without the proper project schedule, the project manager can't manage, monitor, or control the progress of the project.
► Project Schedule vs Project Plan
Here we will discuss the difference between Project Scheduling and Project Plan.
◉ What is Project Schedule?
Project Schedule is a program that shows planned dates for performing tasks and activities and the planned dates for meeting milestones and deadlines.
◉ What is Project Plan?
A project plan refers to a formal, approved document that is used to guide both project execution and control. Some organizations make Work Plans instead of project plans.
Must Read :Project Life Cycle
◉ Difference between Project Schedule and Project Plan
Key differences between project schedule and project plans are listed below;
PROJECT SCHEDULE

PROJECT PLAN

The project schedule focuses on the details of how tasks will get done.
The project schedule consists of specific tasks and due dates for each. It's a timeline for the complete project for when the tasks will be started and finished.
A project schedule is more an estimation based on historical data, previous project experience, etc.
The schedule is flexible to some extent and changes throughout the project.

The project plan plays a guiding role for both project execution and controlling of the project's activities.
The project plan is the larger, grand scheme blueprint on how the project will run according to the project schedule.
The plan remains the same and all activities are performed as per the given time period and allocated resources.
The project plan defines the project goal, scope, resources needed, costs, etc.
► Importance of Project Scheduling
Scheduling Managers often say delivering projects on time is one of their biggest challenges. This is the reason Project schedule is very important for them.
Time has the least amount of flexibility in nature; it passes no matter what happens.
Schedule issues are the main cause of project conflicts, especially during the second half of projects.
► Process of Project Scheduling
Identifies Activities
Identify Possible Dependencies
Estimates Resources
Assign People to conduct Activities
Create Activity Network and Bar Charts
◉ How do Project Managers Schedule a Project?
First of all, the Manager needs to estimate the time and resources of the project to schedule the project activities.
Each activity in the project must be arranged in an orderly sequence which means activities should be arranged in a well-organized method for easy understanding.
Cost estimates of the project on the initial level can be made optimistically. It means estimates can be made based on favorable things and no threats or problems take place.
The total work must be divided into various small activities or tasks during the project schedule. (also known as Work Breakdown Structure)
Once WBS has been framed the Project manager has a lot of time duration required for each activity or task to get completed.
Even some activities are conducted and performed parallelly for better performance.
A project manager should be aware of fact that each task of the project is not risk-free.
► Advantages of Project Scheduling
Schedule facilitates monitoring and controlling of project activities.
It helps in determining the best way to allocate resources.
It helps in the assessment of time delays and their impact on the project.
Finding available excess resources to allocate to other projects.
To track project progress in real-time.
Helps in achieving the project goal on time.
There is a variety of tools that Managers use to develop a project schedule.
For small Projects, Some tools are for a relatively simple process of action planning.
For large projects, Gantt Charts and Network Analysis are widely popular.
► Schedule Inputs
Personal and project calendars
Description of project scope
Project risks
Lists of activities and resource requirements
Personal and project calendars – The schedule Manager adds working days, shifts, and resource availability. These elements are critical in completing a project schedule.
Description of project scope – Now Manager determines the key start and end dates, major assumptions behind the plan, and key constraints and restrictions. He can also include stakeholder expectations, which will often help in creating project milestones.
Project risks – During Scheduling a project, the manager makes sure there's enough extra time to deal with identified risks and unidentified risks (risks are identified with a thorough Risk Analysis).
Lists of activities and resource requirements – The manager must determine if there are other constraints to consider when developing the schedule.
Analysis of the resource capabilities and experience of human resources, as well as holidays of company and staff vacations, may affect the schedule.
A project manager also should be aware of deadlines and issues related to the availability of resources. All these factors may make the schedule less flexible.
► Scheduling Tools
Schedule Network Analysis
Critical Path Analysis
Schedule Compression (Crashing, Fast Tracking)
◉ Schedule Network Analysis
It is a graphical representation of the project's activities and the time it takes to complete them.
It arranges them in the sequence in which they must be done.
To conduct these analyses, Project management software such as Gantt charts and PERT Charts are commonly used.
◉ Critical Path Analysis
Critical Path Analysis is the process of looking at all of the activities that must be completed, and calculating the best way (critical path) to take so that project can be completed in the minimum amount of time.
The method calculates the early and late possible start and finishes times for each project activity. It also estimates the dependencies among them to create a schedule of critical activities and their dates.
◉ Schedule Compression
Schedule Compression tool helps shorten the total duration time of a project by decreasing the time allotted for certain activities.
By doing this manager can meet time constraints, and still keep the original scope of the project.
Generally, they can use two methods here:
Crashing
Fast-Tracking
✔ 1. Crashing
Crashing refers to that method where project managers assign more resources to an activity. It decreases the time it takes to complete it. It is based on the assumption that the saved time will offset the added resource costs.
✔ 2. Fast-Tracking
Fast Tracking involves re-arranging activities to allow more work parallelly. It means that things that are normally done one after another are now done at the same time.
However, always remember that this approach increases the risk that you'll miss things, or fail to address changes.
► Multi Project Resources Scheduling
Managing multi projects is also known as the resource-constrained multiple-project scheduling problem (RCMPSP).
RCMPSP can be managed by following exact procedures, or simple priority rules.
The advantage of using these priority rules for managing resources is that they are straightforward, which makes them easy to execute.
It is one of the most commonly used techniques in experimental literature to simulate the ideal scheduling of scarce resources for multiple projects.
To implement simple priority rules, a structure of a scheduling scheme must be present.