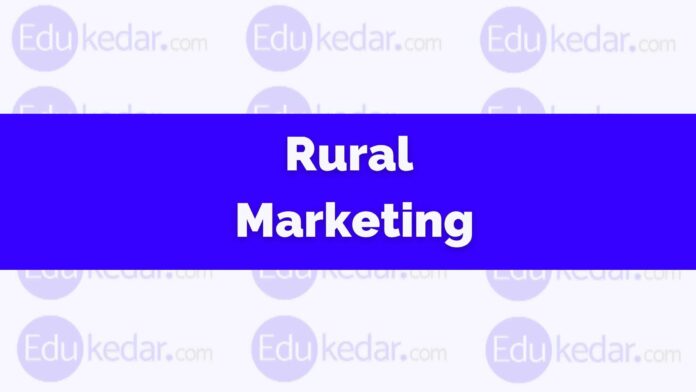 Rural marketing refers to marketing activities in a rural area that covers a major portion of the total geographical area and population of the country. Rural markets refer to marketing centers operating in rural areas where favorable marketing infrastructure may not be present. Here in this article, we have shared What is Rural Marketing, its meaning, definition, Nature, Scope, Types, Importance, and Challenges.
► What is Rural Marketing?
Rural Marketing is the term Rural marketing used to be an umbrella term for the people who dealt with rural people in one way or another.
It got a separate meaning and importance in India after 1990.
◉ Rural Marketing Meaning
Rural Marketing refers to the process of developing, pricing, promoting, and distributing rural-specific product and service leading to an exchange between rural and urban market which satisfies consumer demand and also achieve organizational objectives.
◉ Definition of Rural Marketing
Rural marketing is defined as managing all the activities involved in assessing, stimulating, and converting the Purchasing power of the rural customers into Effective demand for specific products and services and moving them to the people living in Rural areas.
To create satisfaction and a better standard of living and thus achieve organizational objectives.
It involves the Planning & implementation of marketing functions for rural areas.
According to the National Commission on Agriculture,
Rural Marketing is a process that starts with a decision to produce a saleable farm commodity and it involves all the aspects of the market structure or system, both functional and institutional that are based on technical and economic considerations. It includes pre and post-harvest operations, assembling, grading, storage, transportation, and distribution.
According to Thomsen,
The study of Rural Marketing comprises all the operations involved in the movement of agricultural food and products, raw materials, and their derivations, such as textiles, from the farms to the final consumers and the effects of such operations on producers, middlemen, and consumers.
◉ Concept of Rural Marketing
It is a two-way marketing process wherein:
Urban to Rural
Rural to Urban
Rural to Rural
► Nature of Rural Marketing
Occupation pattern
Large diverse and scattered market
Socio-economic position
Low literacy level
Low standard of living
Inadequate infrastructure facilities
Traditional outlook
Distance
Diverse Socio-economic background
Conservative lifestyle
Poor Media reach
Poor Medical facilities
► Importance of Rural Marketing
Size of rural market
Rural target population
Employment
Better living
Contribution to national income
Increase in farm income
► Scope of Rural Marketing
Large population
Growth of market
Rising rural prosperity
infrastructure is improving rapidly
increasing income and purchasing power
Social indicators have improved a lot between 1981 to 2001
Accessibility of markets
Competition in urban markets
Saturation of the urban market
New employment opportunities
Government initiatives
Rural marketing is not expensive
Huge Media Reach
Growth in consumption
► Challenges in Rural Marketing
Understanding the rural consumer
Low per capita income
Low literacy levels
Seasonal Demand
Lack of infrastructure and physical facilities
Underdeveloped people and underdeveloped markets
Traditional outlook
Many languages and Dialects
Barter system
Inadequate Media coverage for promotions
Availability of duplicate and cheap brands
Slow purchasing decision
Problems related to distribution and channel management
Cultural factors
Vast and scattered market
► 4 A's of Rural Marketing
Affordability
Availability
Awareness
Acceptability
Must Read :What is Poverty?
► What is Rural Demand?
Rural Demand refers to the wants for specific products in the rural markets that are backed up by an ability and willingness to buy them.
Demand for traditional products such as agricultural inputs, FMCG products such as tea, biscuits, soaps, and consumer durables such as refrigerators, TV, and electric machines has grown over the years.
◉ Buying Characteristics of Rural Market
High involvement in any product purchased.
Purchases products more often (daily, weekly in small quantities)
Quality conscious / value for money.
Looks like functionality rather than frills.
Brand loyal/difficult to dislodge.
Understand symbols and colors better.
The Source of information is critical.
Mostly, the buyer is different from the user.
Brisk buying after harvesting period / major in festivals.
◉ Size and Scope of Indian Rural Market
FMCG products 65,000 crores
Consumer Durables 5,000 crores
Agri inputs including tractors 45,000 crores
2/4 wheelers 8,000 crores
Total 1,23,000 crores
In the FMCG market, the size of the rural market is larger than the urban market. Problems with logistics supply and storage. Rural markets accounted for 54% of the durables sold in the country. The decadal growth rate for consumer durables is 100% in rural against 40% in urban.
► Structure of Rural Market
The share of the Rural Population is almost 70% in India
Occupational Pattern 40% of the rural population is in Cultivation
followed by 35% wage earners
11% are Salary earners and 5% are Petty Shopkeepers 4% are Artisans
Cultivator's disposable income is highly seasonal and it is available at the time of harvesting.
Social and Cultural Environment variations between regions and subregions.
Outward migration to urban is very high.
The settlement pattern is in clusters largely around caste line
Activities limited to smaller geographic areas result in higher adherence to customs and traditions.
► Role of Government in Rural Market
Introduction of rural policies of government among rural areas to raise innovation level. There are various incentives monetary and subsidies that should be given to rural entrepreneurs. Good MSP to the farmers for their crops.
Development of cold storage and warehouse for farmers to sell their product at the time when the price is attractive.
Road and transport connectivity to improve the logistics and supply chain for the FMCG and agricultural products.
The government of India has taken many initiatives to improve the functioning of the Rural Market.
Few of the Government programs in recent years are as follows;
Pradhan Mantri Gram Sadak Yojana (PMGSY)
Pradhan Mantri Krishi Sinchayee Yojana (PMKSY)
Pradhan Mantri Fasal Beema Yojana (PMFBY)
Deen Dayal Upadhyaya Gram Jyoti Yojana (DDUGJY)
Sampoorna Grameen Rozgar Yojana (SGRY)
Organic farming
Soil Health Card
Use of Neem Coated Urea Fertiliser
Cold Storage and Food Processing
Mahatma Gandhi National Rural Employment Guarantee Act (MGNREGA)
Samagra Siksha Abhiyan (SSA)
Pradhan Mantri Awaas Yojana (Gramin) / Indira Awas Yojana
Provision of Urban Amenities In Rural Areas (PURA)
Antyodaya Anna Yojana (AAY)