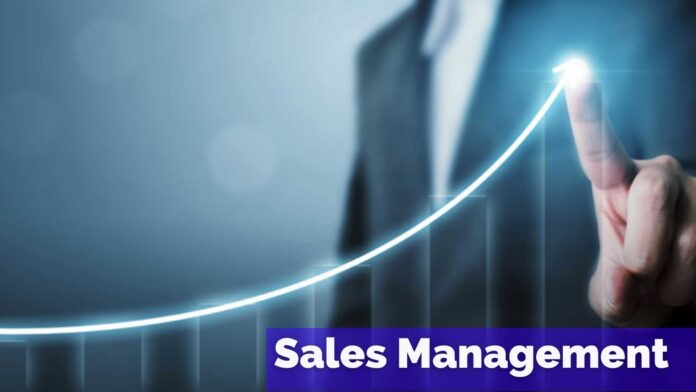 Sales Management, in short, SM is an important subject in management study and courses like PGDM, MBA, B.com, M.com, BBA, ..etc. Here we have shared all the topics that are in the Sales Management syllabus (SM) for the fourth semester of MBA (Master of Business Administration).
What is Sales Management?
Sales management is a business discipline that is focused on the practical application of sales techniques and management of sales operations in the organization.
It is an important business function as net sales through the sale of products & services and resulting profit that drives most commercial business.
Definition of Sales Management
Sales management is the process of planning, recruiting, training, organizing, supervising, and coordinating an organization's sales force.
Meaning of Sale Management
Sales management is an integral part and sub-system of marketing management. Sales management translates the marketing plan into marketing performance.
Sales management is sometimes described as the muscle behind marketing management.
Actually, sales management does much more than serving as the muscle behind marketing management.
► Why do we study Sale Management?
To understand the process of sales management
To identify the role and responsibilities of the sales manager
To appreciate the concept of salesforce and its responsibilities
To understand the nuances of Personal selling
► Sales Management Syllabus
Syllabus of Sales Management in MBA.
Subject Name: Sales Management
Subject Code: MBAT 422
Course: MBA IV Semester 2020-22
University: Uttarakhand Technical University (Dehradun, Uttarakhand)
Total Credit: 3
Internal Marks: 30
External Marks: 70
Total Marks: 100
Sales Management Syllabus in MBA (UTU, Dehradun)
Note: This Sales Management (SM) Syllabus is as per MBA Academic Session 2020-21 of Uttarakhand Technical University, UTU Dehradun. The syllabus is according to the Scheme of Examination as per AICTE Flexible Curricula.
Unit 1: Introduction
The Nature and Importance of Personal Selling,
Nature of Sales Management
Situations where Personal Selling is more effective than Advertising,
Types of Selling situations,
Types of Sales Persons,
Application of AIDA Model in Personal Selling.
Unit 2: Process of Personal Selling
Process of Effective Selling;
Prospecting,
Pre-approach,
Approach,
Presentation and Demonstration,
Handling the objections,
Closing the Sales,
Post-Sale Activities,
Qualities of a Successful Salesperson with reference to B2C, B2B marketing.
Unit 3: Controlling the Sales Effort
Sales Forecasting;
Sales Budget,
Sales Quotas,
Sales Territories,
Sales Controlling and
Sales Cost Analysis.
Unit 4: Managing the SalesForce
Recruitment and Selection,
Training and Development,
Compensation and Innovation,
Direction and Suspension,
Performance Appraisal of Sales Personnel.
Unit 5:
Emerging Issues in Selling Aspects
Ethical and Legal Aspects of Selling,
Measures for Making Selling an attractive Career,
Recent Trends in Selling.
Suggested Readings
Richard R. Still, Edward W. Cundiff, Norman A.P Govani 5th ed., Sales Management: Decision, Strategies, and Cases, Pearson Education, New Delhi,2009.
Rosann L. Spiro, William J. Stanton, Gregory A. Rich 11th ed., Management of a SalesForce, Tata McGraw Hill, New Delhi 2008
Mark W. Johnston, Greg W. Marshall, Sales Force Management, 8th ed. TMH, N.Delhi,2007
Charles Farrell, sales management.