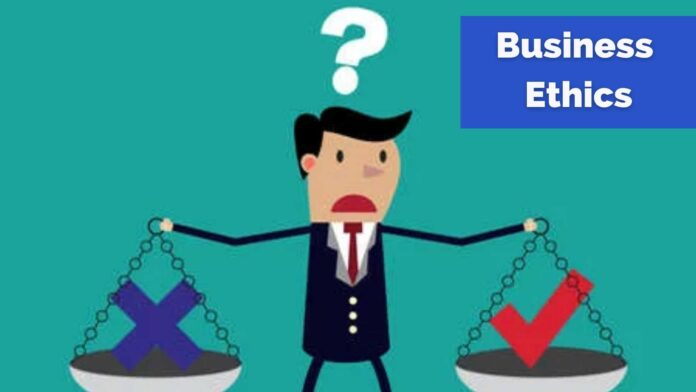 Business Ethics and Corporate Governance, in short, BECG is an important subject in management study and courses like PGDM, MBA, B.com, M.com, BBA, ..etc. Here we have shared all the topics that are in the syllabus of Business Ethics and Corporate Governance (BECG) in the fourth semester of MBA (Master of Business Administration).
What is Business Ethics & Corporate Governance?
Business ethics can be defined as a written and unwritten code of principles and values that govern the decisions and actions of individuals within an organization.
Business ethics apply not only to how the business interacts with the world at large but also to their one-on-one dealing with a single customer.
Definition of Business Ethics and Corporate Governance
Business Ethics can be defined as the moral principles and ethical standards that guide business behavior.
Corporate Governance can be defined as An ongoing process of managing, controlling, and assessing business affairs to create shareholder value and protect the interests of other stakeholders.
► Why do we study BECG?
To Interpret and apply business ethics and morality in performing business activities.
To Demonstrate and apply value, norms, ethical codes, and various ethical activities in a business.
To develop and apply moral philosophies as a manager in an organization's decision-making.
To assess and apply ethical practices in business management in marketing, finance, and HRM
To Develop and apply various models of corporate governance and its framework in an organization.
To Assess and illustrate corporate governance and accounting code and standards in a business.
► Business Ethics Syllabus
Syllabus of Business Ethics and Corporate Governance in MBA.
Subject Name: Business Ethics and Corporate Governance
Subject Code: MBAT 401
Course: MBA IV Semester 2020-22
University: Uttarakhand Technical University (Dehradun, Uttarakhand)
Total Credit: 3
Internal Marks: 30
External Marks: 70
Total Marks: 100
BECG Syllabus in MBA (UTU, Dehradun)
Note: This Business Ethics and Corporate Governance (BECG) Syllabus is as per MBA Academic Session 2020-21 of Uttarakhand Technical University, UTU Dehradun. The syllabus is according to the Scheme of Examination as per AICTE Flexible Curricula.
An understanding of Ethics,
Meaning of Ethics,
Def. Of Business Ethics,
Ethical Performance,
Types of Ethics,
Sources of Ethics,
Ethics and Business,
Importance and Scope of Ethics,
Factors influencing Business Ethics,
Objectives of Business Ethics,
Morality and Ethics.
Unit 2: Values, Norms, Beliefs, and Standards
Ethical Codes,
Managing Ethics,
Ethical Activities,
Ethical Dilemmas,
Whistle Blowing
Unit 3: Ethical Decision
Making the role of Moral Philosophies in Decision Making,
Ethical Organisation,
Ethical Issues that arise for Mangers,
Kohlenberg's Model,
Carrol Gilligan's Model.
Unit 4: Ethical Practices in Business Management
Application in Marketing,
Advertising,
Finance-Tax Evasion,
Lack of Transparency,
Preparing False Financial Statement,
Speculation and Insider Trading.
Application in HR Mare alike Compensation,
and Work Place Harassment of Employees.
Introduction,
Concept, and Need for Corporate Governance,
Definitions,
Parties to Corporate Governance,
Agency Theory,
Stewardship Theory,
Popular Model for Governance,
Anglo-American Model,
Japanese Model and Indian Perspective of Corporate Governance.
Unit 6: Corporate Governance framework
India's Corporate Governance Framework,
SEBI,
Company Law and Accounting,
CII Code on Corporate Governance,
National Code on Corporate Governance (1999),
Chandra Committee on Auditing and Governance.
Suggested Books & Readings
1. CSV Murthy, Business Ethics (Text and Cases), Pub. By HPH
2. Marianne M. Jennings, Cases in Business Ethics, Pubby Cengage Learning
3. Prof.(Col) P.S. Bajaj, Dr. Raj Agarwal, Business Ethics–An Indian perspective, Pubby Biztantra
4. John R. Beatright, Ethics and the conduct of business, Pub. By Pearson Education
5. GeetaRani and R K Mishra, Corporate Governance Theory & Practice, Pub. By Excel Books
6. V Sithapathy and Rama Devi Iyer, Corporate Governance Practice & Procedure, Pub. By Taxman