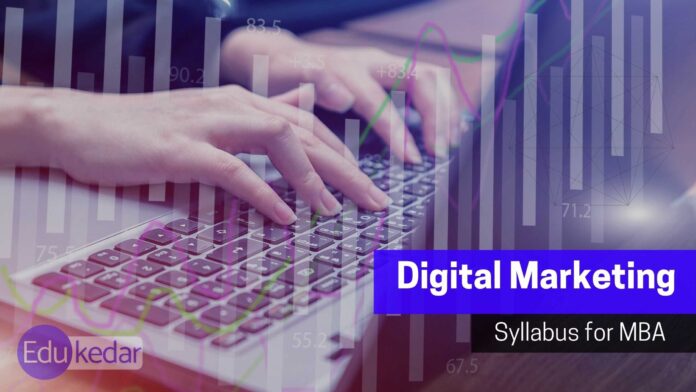 Digital Marketing is a subject in management study and courses like PGDM, MBA, B.com, M.com, BBA, ..etc. Here we have shared all the topics that are in the syllabus of Digital Marketing in the third semester of MBA (Master of Business Administration).
First of all, let's discuss the basic things like what is Digital Marketing, the definition of Digital Marketing and its objectives, and why we study Digital Marketing. And at the last, we have shared all the units that we study in the Digital Marketing syllabus.
What is Digital Marketing?
Digital marketing refers to that marketing in which uses electronic devices such as computers, tablets, laptops, smartphones, and digital billboards to engage with consumers and other business partners.
Earlier it is also known as Internet marketing but in recent times Internet marketing is a major component of digital marketing.
Definition of Digital Marketing
Digital marketing is a form of communication and interaction between the company and its customers through digital channels such as the internet, email, and other digital technologies. – Philip Kotler
Digital marketing includes the use of the internet, Smartphones, and related digital technologies to achieve marketing goals. – Chaffey
► Objective: Why do we study?
Students will develop an understanding of digital and social media marketing practices.
Students will develop an understanding of the social media platforms
Students will acquire the skill to acquire and engage consumers online.
Students will develop an understanding of building organizational competency by way of
digital marketing practices and cost considerations.
Students will develop an understanding of the latest digital practices for marketing and promotion.
►Digital Marketing Syllabus
Syllabus of Digital Marketing in Masters of Business Administration – 2 Year.
Subject Name: Digital Marketing
Subject Code: MBAT 323
Course: MBA III Semester 2020-21
University: Uttarakhand Technical University
Total Credit: 3
Internal Marks: 30
External Marks: 70
Total Marks: 100
Note: This Digital Marketing syllabus is as per MBA Academic Session 2020-21 of Uttarakhand Technical University, UTU Dehradun. New Scheme of Exams as per AICTE Flexible Curricula.
Unit 1 – Introduction to Digital Marketing
The new digital world –
trends that are driving shifts from traditional marketing practices to digital marketing practices,
the modern digital consumer and new consumer's digital journey.
Marketing strategies for the digital world –
latest practices.
Unit 2 – Social Media Marketing
Introduction to Blogging,
Create a blog post for your project.
Include headline,
imagery,
links and post,
Content Planning, and writing.
Introduction to Facebook,
Twitter,
Google +,
LinkedIn,
YouTube,
Instagram,
and
Pinterest;
their channel advertising and campaigns.
Unit 3
Acquiring & Engaging Users through Digital Channels:
Understanding the relationship between content and branding and its impact on sales,
search engine marketing,
mobile marketing,
video marketing,
and social media marketing.
Marketing gamification,
Online campaign management;
using marketing analytic tools to segment,
target and position;
overview of search engine optimization (SEO).
Unit 4
Designing Organization for Digital Success:
Digital transformation, digital leadership
principles,
online P.R. and reputation management.
ROI of digital strategies, how digital
marketing is adding value to the business,
and evaluating the cost-effectiveness of digital strategies
Unit 5
Digital Innovation and Trends:
The contemporary digital revolution,
digital transformation
framework;
security and privatization issues with digital marketing
Understanding trends in digital marketing –
Indian and global context,
online communities and co-creation,
Suggested Readings
Moutsy Maiti: Internet Marketing, Oxford University Press India
Vandana, Ahuja; Digital Marketing, Oxford University Press India (November 2015).
Eric Greenberg, and Kates, Alexander; Strategic Digital Marketing: Top Digital Experts
Share the Formula for Tangible Returns on Your Marketing Investment; McGraw-Hill
Professional (October 2013).
Ryan, Damian; Understanding Digital Marketing: marketing strategies for engaging the
digital generation; Kogan Page (3rd Edition, 2014).
Tracy L. Tuten & Michael R. Solomon: Social Media Marketing (Sage Publication)
Syllabus for Other Subjects (MBA 3rd Sem)