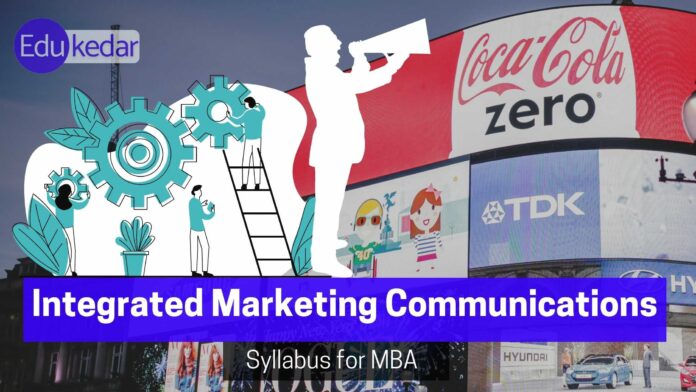 Integrated Marketing Communications is a subject in management study and courses like PGDM, MBA, B.com, M.com, BBA, ..etc. Here we have shared all the topics that are in the syllabus of Integrated Marketing Communications in the third semester of MBA (Master of Business Administration).
First of all, let's discuss the basic things like what is Integrated Marketing Communications, the definition of Integrated Marketing and its objectives, and why we study Integrated Marketing. And at the last, we have shared all the units that we study in the Integrated Marketing Communications syllabus.
What is Integrated Marketing Communications?
Integrated marketing communications, in short IMC, is simply an approach to brand communications where the different functions work together to create a seamless experience for the customer and are introduced with a similar tone and style that reinforce the brand's core message.
IMC's objective is to make all aspects of marketing communication such as Advertising, Sales promotion, PR, Direct marketing, online communications, personal selling, and social media marketing work together as a unified force. Rather than permitting each to work in isolation, which in turn increases their cost-effectiveness.
Integrated Marketing Communication Definition
According to American Marketing Association (AMA),
Integrated Marketing Communication (IMC) is a planning process designed to assure that all product or brand contacts received by a customer or prospect for a product or service are relevant to that customer or person and consistent over time.
► Why do we study Integrated Marketing Communication?
This subject introduces students to the basic concepts of marketing communication which includes advertising, sales, and promotion. Also how these business organizations carry out such activities.
To Understand the importance of marketing communications planning and objective setting in relation to consumer behavior and his decision-making processes.
►Integrated Marketing Communications Syllabus
Syllabus of Integrated Marketing Communications in Masters of Business Administration – 2 Year.
Subject Name: Integrated Marketing Communications
Subject Code: MBAT 304
Course: MBA III Semester 2020-21
University: Uttarakhand Technical University
Total Credit: 3
Internal Marks: 30
External Marks: 70
Total Marks: 100
Note: This syllabus of Integrated Marketing Communications is as per MBA Academic Session 2020-21 of UTU Dehradun (New Scheme of Examination as per AICTE Flexible Curricula).
UNIT I – INTRODUCTION TO ADVERTISEMENT
Concept and definition of advertisement –
Social, Economic and
Legal Implications of advertisements –
setting advertisement objectives –
Ad. Agencies –
Selection and remuneration –
Advertisement campaigns.
UNIT II – ADVERTISEMENT MEDIA
Media plan –
Type and choice criteria –
Reach and frequency of advertisements –
Cost of advertisements –
related to sales –
Media strategy and scheduling.
UNIT III – DESIGN AND EXECUTION OF ADVERTISEMENTS
Message development –
Different types of advertisements –
Layout –
Design appeal –
Copy structure –
Advertisement production –
Print –
Radio.
T.V. and
Web advertisements –
Media Research –
Concept Testing–
Measuring the impact of advertisements.
UNIT IV – INTRODUCTION TO SALES PROMOTION
Scope and role of sale promotion –
Definition –
Objectives of sales promotion –
sales promotion techniques –
Trade-oriented and consumer-oriented.
UNIT V – SALES PROMOTION CAMPAIGN
Sales promotion –
Requirement identification –
Designing of sales promotion campaign –
Involvement of salesmen and dealers –
Outsourcing sales promotion national and
international promotion strategies –
Integrated promotion –
Coordination within the various promotion techniques –
Online sales promotions
Suggested Books:
Semenile, Allen, O'Guinn, Kaufman Advertising, and Sales Promotions – An Integrated Brand Approach -6th Bedition, Cengage Learning. (2012).
Kenneth Clow. Donald Baack, Integrated Advertisements, Promotion, and Marketing Communication, Prentice Hall of India, New Delhi, 6th edition, 2013.
S. H. H. Kazmi and Satish K Batra, Advertising & Sales Promotion, Excel Books, New Delhi, 2nd edition, 2008.
George E Belch and Michel A Belch, Advertising & Promotion, McGraw Hill, Singapore, 7th edition, 2011.
Julian Cummings, Sales Promotion, Kogan Page, London 2003.
E. Betch and Michael, Advertising and Promotion, McGraw Hill, 7th edition, 2003.
Jaishri Jefhwaney, Advertising Management, Oxford, 2013.
V.S.Padmanabhan, H.S.Murthy. Advertising and Sales Promotion (An Indian Perspective) Anes Books Pvt.Ltd -2011.
Syllabus for Other Subjects (MBA 3rd Sem)