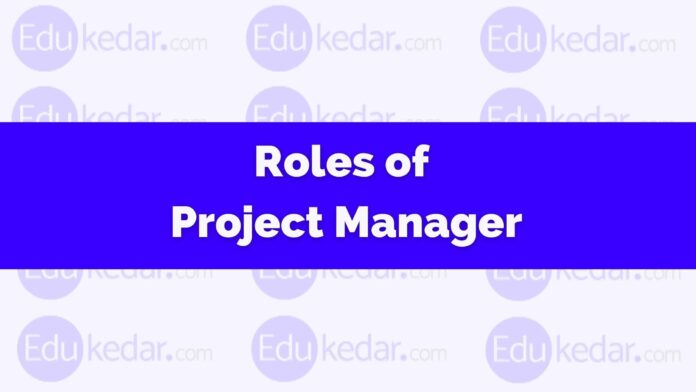 The project manager performs the same functions as other managers making their plan, schedule, motivating, and control. The roles and responsibilities of Project Manager are very challenging and dynamic in nature.
The project manager is so unique job role because they can manage all the projects on temporary, non-repetitive activities, to complete a project on a fixed basis.
Here we will discuss in detail the project manager and who is a project manager? and its meaning, definition, functions, job role, skills, and characteristics.
► Who is a Project Manager?
In any organization we find two types of people:
Those who all give an excellent idea from their knowledge and experience but are not very good at getting things done.
Those who are good at handling men and matters, but are not as sound as the former in technical matters.
People who have great an idea could not necessarily good implementers.
The manager of a project should be one who can work effectively with different groups of people, interact with various departmental heads, and integrate all the functions to get the project to move.
Harold Kerzner calls the as the first type of people 'Project Champions' and the Second 'Project Manager'.
◉ Meaning of Project Manager
A project manager is a professional in the field of project management where the project managers can have the responsibility for the planning, execution, and closing of any project, typically relating to the construction industry, architecture, computer networking, telecommunication, or software development.
◉ Definition of Project Manager
A Project Manager is a person who is responsible for the execution of all the projects from the start to finish. Where the objective has been already been rendered and monitored with the process of administering all the logistical tasks and successful finishing project are responsible for a project manager to commit.
A project manager is an employee who plans and organizes the resources which are necessary for the completion of a project.
► Characteristics of Project Manager
Flexible and adaptable.
Preference for significant initiative and leadership.
Aggressiveness, confidence, persuasiveness, verbal fluency.
Ambition, activity, forcefulness.
Effectiveness as communicator and integrator.
The broad scope of personal interests.
Poised with enthusiasm, agitation, and spontaneity.
Able or willing to devote most of his time to planning and controlling.
Able to identify problems.
Willing to make decisions that are acceptable.
Able to maintain a proper balance in the use of time.
Must Read :Project Life Cycle
► Functions of Project Manager
(roles)
Developing a unique product or process and managing change.
Identification of the need for the project.
Finding different alternatives to the project.
Developing a plan of action.
Training operators.
For the establishment of a quality assurance cell to control quality.
Incorporation of changes as and when needed while implementing the project.
Selection of suitable equipment.
Finding suitable financial resources.
The assessment of alternatives and obtaining approval to proceed.
Measuring the performance of the project.
Transfer of material, funds, and settling all accounts after completion of the project.
Monitoring progress and reporting to higher authorities.
Closing all records, submission of the final report, and transferring responsibility after completion of a specified project.
► Roles & Responsibilities of Project Manager
The roles and responsibilities of a project manager are to take a responsibility for a specific project or several projects within an organization.
Project Planning
Document & Contract Management
Stakeholder Engagement
Cost Estimation and Budget Management
Resource Allocation Progress
Project Execution
Project Scheduling
Monitoring & Controlling
Risk & Issue Management
Project Closure
Review Lessons Learned
► Skills of Project Manager
(roles and responsibilities)
Here are some important skills of the project manager discussed below:
Leadership
Communication
Scheduling
Risk Management
Cost Management
Negotiating
Task Management
Critical Thinking
Quality Management
Let's know discuss these skills in detail below:
✔ Leadership
roles and responsibilities of project manager 
A project manager must be having leadership skills in a=order to influence his team and stakeholders towards the achievement of the goal of the project.
They must provide knowledge or guide their team member and make sure that everyone is on the same page. The stakeholder must accept him as a leader and the project manager must behave like a leader.
✔ Communication
A project manager spends most of his time in meetings. He conveys his ideas, objectives, and vision by establishing good communication channels with the stakeholders.
A project manager must have verbal communication skills as well as written communication skills.
✔ Risk Management
Projects involve risks that may have either positive or negative effects on their goals. Additional risks will arise during the course of a project and some risks may disappear.
The project managers are responsible for dealing with project risks by employing response strategies.
Risk management is one of the most important technical project management skills.
✔ Cost Management
Almost every project has financial constraints or bottlenecks. Only a few of them are successfully completed on budget.
Creating the baseline budget and tracking the project's cost performance are essential tasks for any project manager who is willing to succeed in current and future projects.
✔ Negotiating
roles and responsibilities of project manager
While performing tasks, a project manager negotiates everything. They can negotiate with the use of budget, resources, scope creep, and other important issues with the stakeholders in order to solve problems.
He also negotiates payment issues with vendors, subcontractors, and suppliers. A good project manager must have to be a good negotiator. Note that negotiation is one of the most important aspects of soft project management skills.
✔ Task Management
Task management is the process of managing a task through its life cycle. Most probably it involves planning, testing, tracking, and reporting.
The team management will help each and every individual in achieving the goals, or groups of individuals collaborate and share knowledge for the accomplishment of collective goals.
✔ Critical Thinking
Critical Thinking is the analysis of all the available facts, evidence observations, and arguments to form a judgment.
The subject is complex for several different exist, which generally include the rational, skeptical, and unbiased analysis or evaluation of all factual evidence.
✔ Quality Management
roles and responsibilities of project manager
Quality management has to ensure that an organization's product or service is always consistent. It has four different components that are planning of quality, assurance of the quality, quality control, and quality improvement.
Quality management is focused not only on product and service quality but also focuses on the means to achieve the target.
Must Read :10 Roles of Manager by Henry Mintzberg