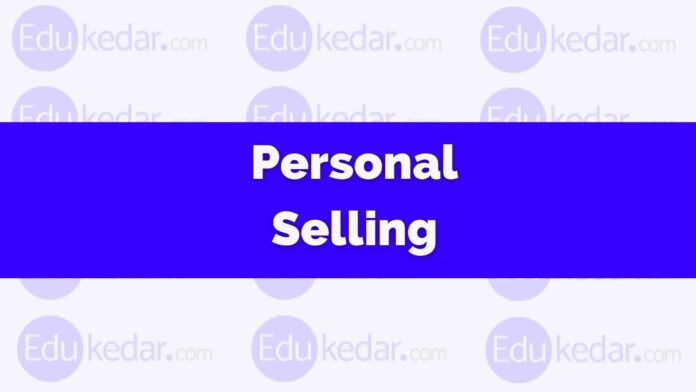 Personal selling is an important component of a company's promotion mix, along with advertising, marketing, sales promotion, and public relation. Here we have tried to discuss all the concepts of personal selling in very laymen's terms.
So let's start with answering the question what is personal selling?
► What is Personal Selling?
It is the direct communication between Salesperson and Prospects that lead to purchase orders, customer satisfaction, and post-sale service.
It is a part of the promotion mix,
Two-way communication
Involves presentation and persuasion.
Prospect is Somebody who a salesperson believes has a good chance of turning into a paying customer.
◉ Personal Selling Meaning
Personal selling means face-to-face interaction between a salesperson and a potential customer for the purpose of selling something.
In this type of Selling, the salesperson interacts with the customer in person.
◉ Definition of Personal Selling
Personal Selling can be defined as direct communication between paid representative and prospects that lead to purchase orders, sale for the company, customer satisfaction, and post-sale service.
According to American Marketing Association,
"Personal Selling is the oral presentation in a conversation (interaction) with one or more prospective purchases for the purpose of making sales. It is the ability to persuade the people to buy goods and services at a profit to the seller and benefit to the buyer."
According to William Stanton and Walker,
"Personal selling refers to the process of personal communication of information to persuade somebody to buy something."
According to Mahoney and Slone,
"Personal selling is an act of personal communication between a salesperson and a potential customer or group of customers."
► Objectives of Personal Selling
The objectives and purpose of personal selling are as follows;
Generate demand
Handling Customer Queries
Educating Customers
Building Relationships
Getting Feedback
Increase distribution outlets
Finding new customers
Sales Maximization
► Nature / Characteristics of Personal Selling
Direct and Face-to-Face Communication
Immediate Feedback
Two-way communication
Very Flexible
Poor Reach
High Customer engagement
Persuasive Activity
► Importance of Personal Selling
Effective planning
Promotion tools
Minimum wastage of resource
Immediate feedback
Demonstration,
It helps to build Relationships in marketing
More Customer Satisfaction
Suitable for technical and industrial products
Must Read :What is Sales Management?
► Process of Personal Selling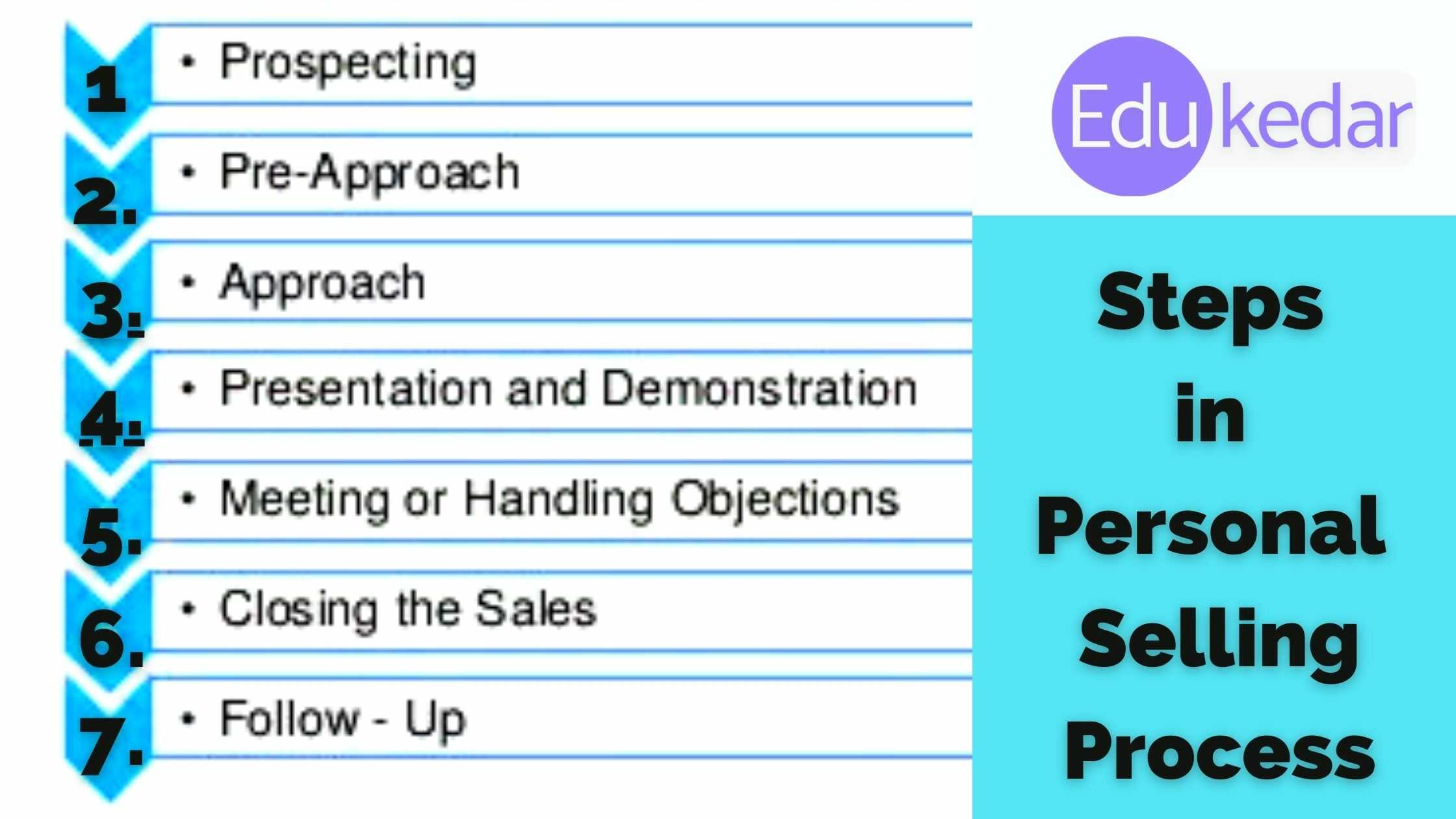 The steps involved in the effective selling process are as follows;
Prospecting and Qualifying
Pre approach
Approach
Presentation and Demonstration
Handling objections
Closing
Follow up
✔ 1. Prospecting
Prospecting refers to the process of identifying qualified potential customers. Developing a list of potential customers from sources listed below;
Sales records, trade shows, commercial databases, newspaper announcements, public records, telephone directories, and trade association directories.
Responses to advertisements with information request forms.
Referrals are gained by recommendations from current customers
Good CRM is required to manage the list of potential customers.
✔ 2. Pre-approach
Pre-approach is the process where a salesperson learns and gathers information about the prospective customer.
◉ Finding and analyzing information about the prospect
Specific product needs
Current use of brands
Feelings about available brands
Personal characteristics
◉ Additional research
Identifying key decision-makers
Reviewing account histories and problems
Contacting other clients for information
Assessing credit histories and problems
Preparing sales presentations
Identifying product needs
✔ 3. Approach
The approach is all about the manner in which how the salesperson contacts a potential customer and makes the relationship.
The purpose is to gain information about the buyer's needs and objectives.
Important to create a favorable first impression and build rapport with a prospective customer.
◉ Typical approaches are as follows;
Referral by an existing customer to a prospective customer.
"Cold" call without a prior introduction to the customer.
Re-connect and make contact based on prior meetings with the potential customer.
✔ 4. Presentation
In this step, the salesperson prepares a presentation so he can discuss the product and its benefits with the potential customer.
◉ Things to do during the presentation:
Attract and hold the prospect's attention.
Stimulate interest in the product.
Spark a desire for the product.
Listen and respond to the prospect's questions and comments.
◉ Ways to enhance the effectiveness of the presentation
Make sure prospects touch, hold, or use the product.
Use audiovisual graphics and promotional videos to heighten the impact of the presentation.
✔ 5. Handling Objection
In this step, the Salesperson's responsibility is to overcome objections and clear doubts and answer the queries from customers.
Anticipate Doubts, and objections and counter them during the presentation.
Generally, the best way to handle objections is to answer them as they arise.
✔ 6. Closing
Now Salesperson tries to convince a prospect to make an order/purchase. And when the order is created it is known as the salesman closes the sale.
Closing is the stage in the selling process when the salesperson finally asks the prospect to buy the product.
◉ Closing strategies adopted by Salesperson:
"Trial" closing in Sales: asking questions (what, how, or why) that assume the customer will buy the product
Asking for a tryout order or sample test: a low-risk way for customers to try out the product
✔ 7. Follow Up
Following up is used to encourage the customer to take action. Follow-up can increase customer satisfaction and repeat orders.
Follow-ups in Selling can be conducted in a number of ways. The most frequently used methods are telephone and email.
Determining if the delivery and setup of the order were completed to the customer's satisfaction.
Ascertaining the customer's future product needs.
◉ Post Sales activities:
Keeping customer records,
Evaluate sales efforts
Follow Up for Feedback
Customer service (i.e. Car, Bike servicing)
After-sales products/Accessories
► Types of Personal Selling Situations
The situations where Personal Selling is more effective than Advertising.
Retail Selling,
B2B Selling,
Loans, Insurance Schemes,
New Product Launches,
Industrial and Institutional products,
High-value items (Luxury products)
Missionary selling
► Advantages of Personal Selling
Here are the advantages or benefits of personal selling;
Higher Customer Satisfaction
Customized Message
Interactivity
Persuasive Activity
Build Strong Relationship
Flexible
Opportunity to Closing the Sale
Quick Feedback
► Disadvantages of Personal Selling
Disadvantages or limitations of personal selling are as follows;
Higher Cost
Manpower intensive
The skill of Salesmanship is mandatory
Poor Reach
Time Consuming
Ethical problems
Management conflict
The message may be inconsistent