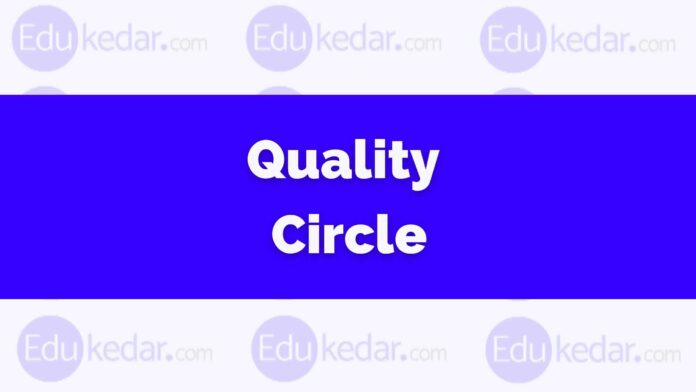 The Quality Circle plays a key role in determining the organization's productivity and establishment of a well-structured organization. The success of any organization depends on its organizational structure and functional rapport among different elements.
The term 'Quality Circle' implies a small group formed with employees on a voluntary basis working in the same department, whose main task is to identify the problems or errors, discuss them & analyze them and suggest solutions to the higher authority or management.
Here we have shared the detailed article on the Quality circle and its meaning with steps in the process, objectives, and importance in HRM (Human Resource Management).
► What is Quality Circle in HRM?
A quality circle is defined as a volunteer group composed of workers, and supervisor, who identify, analyze and solve work-related problems and provide their solutions to management so that organization performance improve and employees feel more motivated towards their work.
Quality circle in HRM consists of small teams of usually 6 to 12 employees who voluntary voluntarily join the circle form and solve a quality or performance-related problem.
In simple words, the quality circle defines some sort of voluntary and formal group which solves problems in the workplace and provides a suggestion to produce higher quality goods and deliver a high level of customer satisfaction.
◉ Quality Control Circle Meaning
A quality circle simply means a small group of people engaged in similar work who meet voluntarily on regular basis under the leadership of their supervisors.
To identify and discuss their work problems, analyze the causes thereof and recommend the solutions to superiors, and implement the solutions themselves.
A Quality Control department is a group of five to ten employees that meets regularly to solve problems affecting its work unit. This group carries on continuous activities for the improvement of quality within the workplace.
Generally, there are several qualities, and circles in an organization. They take over the responsibility for solving quality problems. They generate and evaluate their own feedback. But management typically retains control over the final decision regarding the implementation of recommended solutions
◉ Definition of Quality Circle
"A Quality Circle is a volunteer group composed of members who meet to talk about workplace and service improvements and make presentations to their management with their ideas." – L.M. Prasad
"A quality circle is a group of employees usually from seven to ten from the same unit who voluntarily meet together regularly, usually for one hour a week to identify, analyze and make recommendations about quality problems and other production problems in their area." – Wendell L. French
"Quality circle is defined as a small group of employees doing similar or related work who meet regularly to identify, analyze, and solve product quality and production problems and to improve general operations. The circle is a relatively autonomous unit (ideally about ten workers), usually led by a supervisor or a senior worker and organized as a work unit". – Joel E. Ross and William C. Ross
QC is considered formal and voluntary groups or autonomous units. This circle is responsible for problem identification, information gathering and analysis, basic statistics, and solution generation.
The members of the quality control circle meet regularly and are trained by competent persons like senior managers or industrial relations specialists.
► Concept of Quality Control
The concept of the Quality circle emerged from quality control. This concept is very popular in Japan. QC endeavors to produce high-quality products. Looking at their success, now the U.S.A., & India have also attempted to implement quality circles.
The practice of Quality Circles originated in Japan after the second world war.
Quality circles are considered an integral part of enterprise management. It is also known as quality control circles.
This technique boosted the not only production of Japanese firms but also ensure high-quality products at low costs.
A Quality Control Circle is a group of five to twelve employees that meets regularly.
It is a voluntary, formal, and autonomous grouping that focuses on solving problems that affect its work unit. This group continuously endeavors to improve quality and standards within the workplace.
These quality circle groups take up responsibility for solving quality problems and they provide suggestions and recommendations to management. But management has total control over the final decision of whether to implement of recommendation or not.
► Objectives of Quality Circle in HRM
To ensure employee and organization development.
To improve communication and flow of information between management and employees.
To encourage the employees to express their views, and opinions and share experiences.
To improve job satisfaction which reduces absenteeism and grievances.
To promote peace, harmony, and team building and encourage employee participation as well as promotes teamwork
To promote the participation of employees in decision-making and develop a positive attitude
To improve quality standards and design of products and services
To improve productivity  and reduction of waste, scraps Reduction of cost
To promote safety and reduce workplace hazards.
To promote organization competence, solving skills, and reduce error.
To overcome the communication barriers and promote a sense of belongingness.

To contribute towards the improvement and development of the organization or a department.

To bring positivity to workplace culture and promote a sense of involvement in the decision-making processes.

To promote an opportunity to attain knowledge and self-development.

To reduce cost and redundant efforts in the long run.
► Process of Quality Circle
Here are the steps involved in the process of creating a Circle of Quality Control.
Create awareness about QC
Provide Initial training
Constitution of QC
Initial Problem Solving
Presentation and Approval of Suggestions
Implementation of suggestion
► Importance of Quality Control Circle
It ensures harmony and high performance.
It helps in improving occupational safety and health standards.
It helps in improving product design, quality, and manufacturing processes.
It helps in making the workplace culture and works environment.
It plays a crucial role in enhancing the quality of output or services in order to improve the performance of the both organization and the department.
It helps in motivating and enriching the employee's performance.
It helps in reducing the wastage of raw material and wear or tear of the machine.
It ensures improvement, control, and adaptation in organizing different activities.
Related Topics: