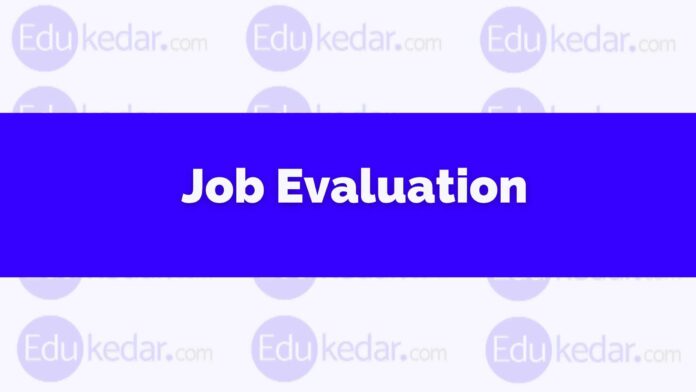 Job evaluation is one of the most basic and perhaps very significant functions of Human resource management. Like any other organization, each organization consists of a number of jobs, and all jobs are important for an organization, but all are not equally important. Therefore, the relative worth of each job is more than other jobs.
Job evaluation is a systematic and well-organized process that helps in determining the value/worth of a job with other jobs in an organization.
After reading this article you get complete information about-
What is JE in HRM
Meaning and Definition of Job Evaluation
Process of J. Evoluation
Objectives of J. Evaluation
Advantage of J. Evaluation.
Methods of J. Evaluation.
► What is Job Evaluation in HRM?
Job Evaluation is defined as a process of evaluating and assessing one job in relation to another job in the organization. The relative worth of various jobs is determined by the organization so that they can establish a satisfactory wage system that will depend on the worth of the job.
Every organization consists of many jobs but few jobs have more importance than others jobs in terms of relative worth. The main purpose of job evaluation is to rate the job rather than rate the employee's performance.
◉ Meaning of Job Evaluation
Job evaluation is a process that is concerned with determining the relative worth of each job in relation to other jobs in an organization. It is intended to provide a rational, orderly hierarchy of jobs based on their worth to the company by analyzing the difficulty of the work performed and the importance of the work to the organization. The factors used to assess a job's worth are identified, defined, and weighted in the company's job evaluation plan.
Management uses the job evaluation method to achieve equity in pay and formulate a formal wage and salary program that is accepted by all employees and compensates all employee effort and hard work they put into their service.
◉ Definition of Job Evaluation
According to the International Labour Organization (ILO),
"Job Evaluation is an attempt to determine and compare the demands which the normal performance of a particular job makes on normal workers, without taking into account the individual abilities or performance of the workers concerned"
Job Evaluation can be defined as "a systematic and orderly process of determining the worth of a job in relation to other jobs". – Edwin B.Flippo
Also Read : What is Job Satisfaction?
► Process of Job Evaluation
The Job evaluation program is a process involving a few steps.
Gaining acceptance
Create a J. Evaluation Committee
Finding the jobs to be evaluated
Analyzing the job and preparing a job description
Selecting the method of J. Evaluation
Classifying jobs
Assigning wages and salary
Review and feedback
These all steps are described in detail one by one below.
✔ Gaining acceptance
This is the first perhaps most important step of the job evaluation process, before starting the evaluation, the top management of the organization must explain all aims, objectives, and uses of the evaluation program to employees and unions so that they feel confident and corporate with the organization.
✔ Creating a J. Evaluation Committee
A committee is created for the purpose of job evaluation which consists of experienced executives and employees, job experts, trade union representatives, and HR experts.
✔ Finding the jobs to be evaluated
It is very important to select or identify a job sample of benchmark jobs that represent the type of work performed in the job and compare it with jobs.
Selecting a job becomes crucial because every job in an organization is not evaluated.
✔ Analyzing and preparing a job description and Job specification
Job analysis becomes very crucial because it provides information related to job duties, responsibilities, reporting relationships, working conditions, special skills, and knowledge of job demand and supervisory responsibilities.
Job analysis help in preparing the job description and job specification.
✔ Selecting the method of evaluation
The foremost important step is to select the method of evaluating the jobs, while selecting the job evaluation method organization should keep all job factors and organizational objectives in mind.
✔ Classifying jobs
The relative worth of different jobs is evaluated by finding which job is important using criteria such as skill and techniques requirements, experience needed, type of responsibilities to be shouldered, degree of dependence on another job, degree of supervision needed, the amount of stress caused by the job, etc. and different weightage can be assigned to each such factor.
✔ Assigning salary and wages
After finding the relative worth of each job it is time to assign the monetary value of each job.
✔ Review periodically
The business environment is very dynamic so changes are inevitable in an employee job role. Jobs need to be examined closely and their pay has been determined based on their role, responsibility, and workload.
Also Read : What is Job Analysis?
► Objectives of Job Evaluation
To compare the duties, responsibilities, and required technical or conceptual skills of a job with other jobs.
To collect the data or information for the preparation of job descriptions and job specifications of various jobs.
To minimize wage discrimination based on sex, age, caste, and religion.
To determine the proper hierarchy of jobs in the organization structure.
To rank the various jobs according to their relative worth.
It simplifies the wage structure.
To improve employee-management relations.
► Importance of Job Evaluation
It helps in standardizing and fixation of salary and wage.
It provides a basis for grading and the pay structure of the organization.
It helps in reducing the inequalities in the wage structure.
It resolves all kinds of controversies related to salary and wages.
It helps in recruiting and selection.
It helps in wage in salary negotiation.
It increases employee job satisfaction because of fair and transparent wage norms.
It enhances the company's brand image and the organization earns a lot of goodwill.
► Techniques and Methods of Job Evaluation
Job Evaluation helps in determining the relative worth of each job so that salary differentials can be established.
Jobs Evaluation methods are divided into two categories-
◉ 1. Analytical Methods
Point ranking method
Factor comparison method
◉ 2. Non-analytical Methods
Ranking methods
Job grading method